south carolina eats the chicken!
Posted by hajipaji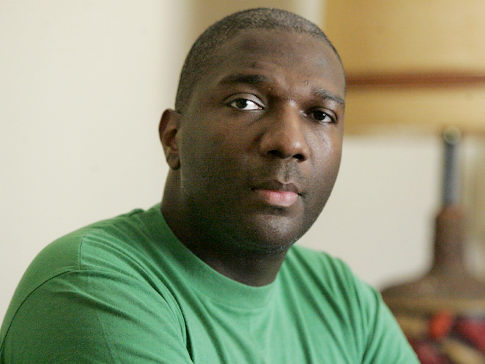 Dear Big Baby Jesus, why'd you let South Carolina do this?
Initially, I wanted to write this post a week ago after watching his interview with Don Lemon on CNN, but unfortunately, was continually sidetracked. Anyhow, this is Alvin Greene. Winner of the Democratic Primary for US Senate. Alleged Republican Plant. Involuntarily discharged Army vet. Resident of his daddy's basement…unemployed, and all around broke a** mofo! Now,  before I continue, let it be understood that A.) I dont usually do political commentary (I tend to keep those thoughts to myself) and B.) Absolutely NOTHING makes me happier than to see my people achieve high merits. But, got damn South Carolina! Why!?! I've watched ALL of Mr. Greene's interviews, and he's yet to demonstrate the smarts and eloquence (or at bare minimum,  bullsh*t-artistry) that would make him fit to be a guest speaker at an elementary school for dyslexic slave children…and y'all gon let him represent you in the US Senate? Word!? Good Grief. I know Vic Rawl (former democratic state rep) is somewhere in a big beautiful white house, on a floral confederate plantation, reminiscing on his past 4 terms…and bathing in a tub of  "WTF'S?!?!"
The most prominent squabble over his senate seat is, he's said to have been a plant. But, whatever, as of right now, thats just speculation. However, if  that should be the case….y'all republican niggas ain't slick! I know what you did. I seen Undercover Brother…and how they played out Billy D.! Y'all did the same thing to Alvin Greene and thought you could get away with it cause the nigga look like Eric Sermon. Well played, you dirty motha f*****s!
15 Responses to "south carolina eats the chicken!"
Leave a Reply