was that racist?
Posted by hajipaji
…another day, another tale of  uncertain discrimination and cunningly veiled anti-niggerness.
So peep…
Last Sunday, Dundee and I were considering the best options to conclude what had previously been an otherwise, delightfully enjoyable North Carolinian visit. Which, lets be honest, any establishment even up for consideration should be  drowned in the warm fuzzies knowing that they'd even have the potential of our patronism. I mean…we're Brown Co! We're America's most fun-loveably awesome tandem of dark skinned dynamos. Get a grip! Anyhow, after much deliberation (and by "much deliberation", I mean "after an episode of In Living Color") we decided to go to Fibber McGees.
Fibber McGees is a cozy little night club in Whitesville…err…WRIGHTSville Beach, where the crowd is predominately caucasian young adults who enjoy modeling dirty flip-flops while they demonstrate dance moves they saw on BET thirty minutes prior. Its also where my homeboy (DJ Battle) works every Sunday night. So, it wasnt so much about going to Fibby McG's as it was to hang out with Battle before I peaced out.
Knowing full well the environment we had decided to be apart of, Dunny and I specifically made sure we avoided any article of clothing that said, "'Sup niggas! We came to smack b*tches and shoot sh*t!" Instead, we put on our "Yes, I enjoy cocoa butter, but I also have a respectable education" gear.  Non-threatening polo tees, clean denim (free of golden dragons, purple monkeys and weed leaves on the back pockets) , and elegant footwear , delicately stitched by the hands of little asian baby-workers. Per usual, I was wearing a fitted cap, which I had convinced myself I'd be willing to part with if need be. Regardless, suited up and ready to boogie, Dunny and I took a celebratory shot of jack and headed out to the club…
We arrived at the door, when we were pleasantly greeted by the every-stereotype doorman who asked for  our ID's. After several minutes of ID examination, he softly whispered to us, "Sorry guys,  fitted jeans only."
WHAT!?
I decided that was an unacceptable reason to deny my right of freaky-dancin' and dry humpin',  so I asked,  "how are my jeans any less fitted than theirs?" (pointing to a white guy wearing a pair of thousand year old tattered, beer stained-britches, draped over his sandals…and two other white guys who clearly just left a "I learned how to dress from watching rappers at swap meets in 1995″ beauty pageant.) His answer, "because your jeans are cuffed." When I offered the brainlessly easy solution of de-cuffing my jeans he retardedly muttered "uh, well, uh, we have a dress code and we need to stick to it."
Now, I know, that doorman was merely performing a task he's trained all his life to do. I shouldnt allow myself to be upset that he's a grown man telling another grown man what he thinks about their pants. And true, Fibber McGees is an establishment of the highest quality. They cant just have any ol' straggly monkeys running amok in their building. Its a place of class. Besides, we had no place going to a nightclub that hired a hip hop DJ to play hip hop music…in our hip hop clothes. What were we thinking?
So, I really dont know?
Was that racist?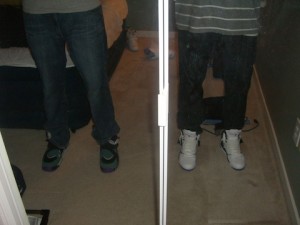 *the pants in question
8 Responses to "was that racist?"
Leave a Reply