some good a** food!
Posted by hajipaji
In  a recent interview for Maxim's "Sexiest Rapping Muppet Enthusiasts" issue (or Wilmington Star News…one of the two) I was quoted as saying, "The food here [California] sucks." This, coupled with several billion other such daggering comments in regards to Santa Cruz's passionless cultural cuisine has stirred quite the uproar within the towns denizens. I've become the subject of much discontent amongst the locals, who are proud of the sandalwood grass-root sandwiches and sweetless teas they seemingly enjoy during their lunch breaks and intermitted acts of hippiness. Well, in an attempt to avoid further persecution, I'd like to extend an olive branch and a good, firm…GET A GRIP! Look Santa Cruz, California, and confused culinary consumers the world over, I dont care how florid and picturesque the plate looks, save that crap for your third grade coloring contest! That junk taste like olive oil and air.  I need some food with some love on it. I need to be able to taste the sweat from a bountifully breasted black woman, who got two jobs and fourty-six grandkids, a house in South Carolina where dont nobody live except some dirty a** stray dogs and a former preacher turned alcoholic, a bathtub full of epsom salt and a cornbread recipe that'll send Jesus himself to the Piggly Wiggly to shop for the paper plates to serve it on. If not, at least a restaurant where two-thirds of the menu is cooked in some type of animal fat. With that said, here's a photo-journal of my favorite places to eat. (Taken during my trip to Wilmington, NC)
(Fun Fact: The picture of the BoJangles meal is merely a stock photo I found on the internet. When I did finally make it to BoJangles and received my order, I was so romantically engaged in the meal I had forgotten to capture the moment on camera.)
Smithfields:

Popcorn shrimp with bbq beans, potato salad, hella hushpuppies a pack of Texas Pete hot sauce and sweet tea.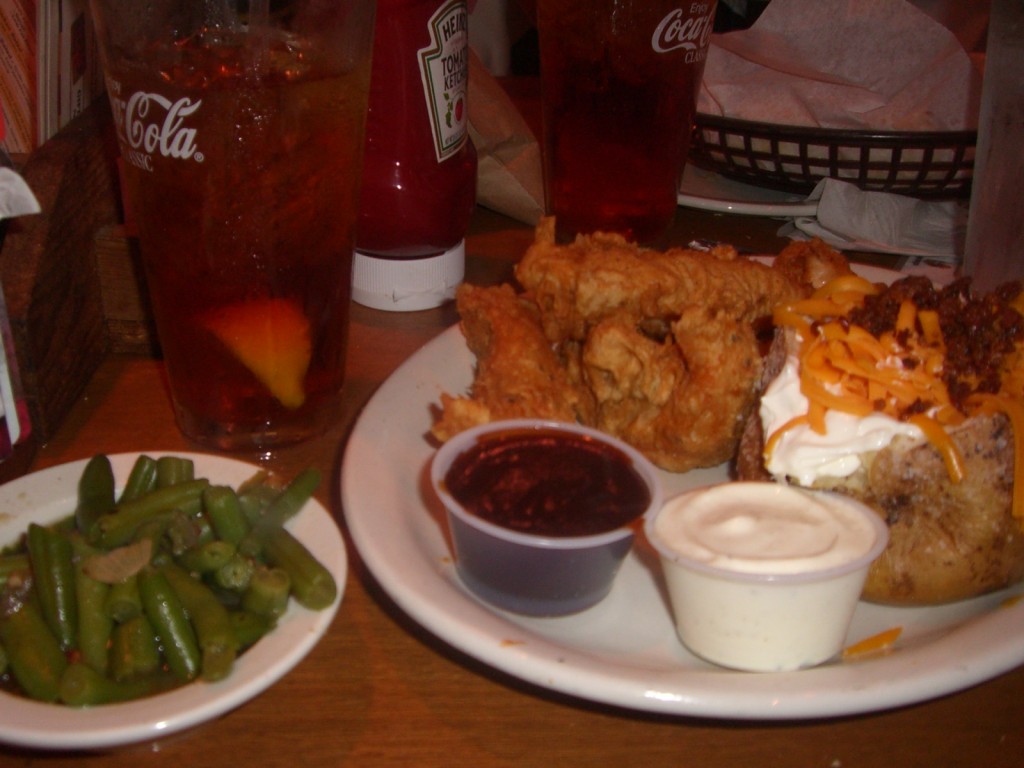 Texas Roadhouse:

Chicken Critters w/ fully loaded baked potato, string beans and some good a** biscuit-rolls with extra cinnamon butter…and sweet tea.
Flaming Amys: Chipotle BBQ, single wide with grilled talapia…and sweet tea.
Firebellys- Tequilla wings with ranch, bleu cheese and some stupid a**, boring a**, unnecessary a** celery…and jack & ginger.
*Haji P does not condone the irresponsible consumption of any food that may lead to heart disease or other such illness due to poor dietary habits; and furthermore, encourages a healthy and active lifestyle. However, if you get fat…dont even sweat it! That be happenin' sometimes. I still think you're beautiful.
-peas.
12 Responses to "some good a** food!"
Leave a Reply