hoodie season.
Posted by hajipaji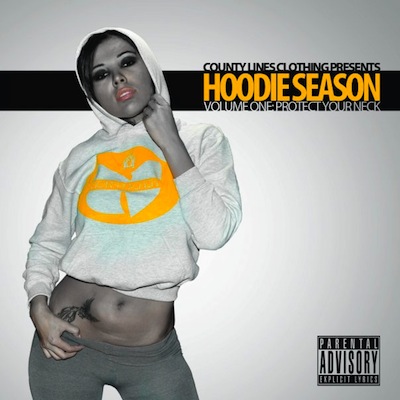 Meanwhile, back in the Port City….Louis T. continually finds reasons to capture the magical essence of  pelvic art. This time, through the guise of  his newest collection of rap songs. If youre unfamiliar with Louis T, then youve clearly never participated in a hip hop event in North Carolina. He owns North Cack. Well, not anymore…he owns County Lines. The clothing counterpart to his hip hop promotions. Son does work.  Like, for real…he still even has a regular a** job…just like you! Anyway, peep his newest FreEP (get it? a free EP!? Tight). Which, again, celebrates the talent of North Carolinian artists. This time, within a mid 90′s, winter clothing themed collection of songs…all of which are layed over Wu-Tang-esque production. Son puts on for his city. And you can too by copping any of his his revered North Cack/ County Lines Hoodies.
Artists include, Big Hop, Addictive Nature, Lo-Cal, Saul Good and PC's newest hardcomer….Kotix. If that  aint fly enough for your pretty little pink panties,  the Ports originators Fuzz Jaxx and DJ Battle have teamed up as the new "Action Inc." to do a little rappity rap, also featuring Mindsone. You should peep that….matter fact, here you go…
Back to Basics Ft. MindsOne w DJ Noumenon
…youre welcome.
*Fun Fact: I was supposed to be on this album, but I slept on getting my track recorded in time. I tend to do that a lot. Hence the name "Pajamas."
5 Responses to "hoodie season."
Leave a Reply