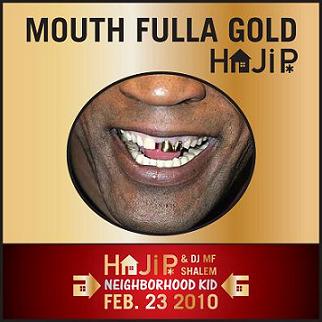 Haji P – Mouth Fulla Gold

DOWNLOAD: Usershare | DivShare
You know how some rappers just be writin' raps? Y'know…just chilling in the room, lab, or whatever respective confines of their choosing for conjuring enlightened lyrical stimulation? Well, this song was an exercise in that. Me, just writin' some raps. Only, instead of all that enlightenment bull crap, I decided to go with some witty lines and hearty spoon full of good ol' fashion ig'nance. The end result was a song, an ode to southern rap (if you will), that people who frequent my live showings tend to enjoy. Produced by DJ MF Shalem, I present to you, the newest addition to Home Repair, "Mouth Fulla Gold." Bling!