pnn exposed: michelangelo.
Posted by hajipaji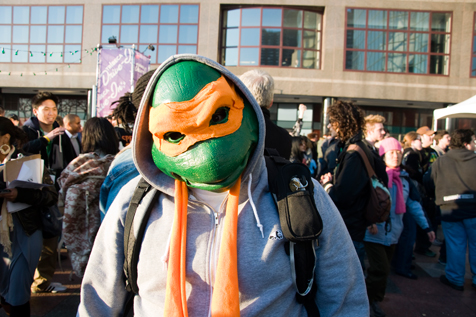 New York, New York  (PNN)- For those of us that grew up in the last era of exemplary television programming, we still hold with us the lessons of family togetherness that were once taught. Values enforced by families like, The Winslow's,  The Tanner's (Alf's family, not Uncle Joey and 'nem), and The Russo's…but no family showed us what it meant to be a loving, cohesive unit more so than The Turtles. The Ninja Turtles. The Teenage Mutant Ninja Turtles.
But is what we saw the reality for the anomalous family that resides in the sublevels of New York City? PNN did some investigating, and what we found may shock you.

Four brothers, one daddy,  and a cozy studio apartment in the sewers of the city.  We watched on screen as they gathered around the table for pizza, thwarted city attacks from numerous villains, and engaged in everyday ninja'ing, all while maintaining  a Brady-like presence. Unfortunately, what we failed to see, was a house divided. Divided by lies, betrayel, and deceit. Ohhh, the deceit! Well,  maybe not deceit…but definitely feelings of reprobation. Ohhh, the feelings of reprobation!
As the opening theme suggests, Michelangelo is best known for being the " party dude."  Just a regular dude who likes to party. But, was that enough to condemn him? To shun him? Perhaps not…but what we discovered served as just the explanation the world has been missing!
Michelangelo "Mikey" Turtle was actually not born unto the same parents as the other  ninja brethren. He was born Zachery Trent Bradford, of Laguna Hills, California. The son of a twelve time Billabong wetsuit model champion, who was in New York doing a shoot for their new winter underwear line. Our sources say that Splinter cold jacked Mikey from his fishbowl out of necessity. Stating that  " The rodent was frustrated. Having four sets of weapons and only three turtles. He needed someone to give the numchucks to!" PNN attempted to speak with Splinter, but he strongly refused…and later double roundhouse-tail whipped one of our reporters. After biting her.
We did, however, get the priviledge to speak with the Teenage Mutant Ninja Turtles  (now in their mid-thirties) and find out how and why this affected their relationship so negatively.
PNN reporter Paj Hajenson spoke first with a fiery Raphael (sporting a tattered "I heart NY" sweatshirt)  who had this to say,
Yo, the nigga was frontin', gawd!  I been knew it. He aint no real New York dude, but niggas aint tryna hear me, nahmsayn!? I remember this one time, nahmsayn, we beat the f*ck outta Krang and 'nem, and we was wild hype…Michelangelo gon jump up and say, 'COWABUNGA!' Cowabunga?  What the f*ck kind of whiteboy sh*t is cowabunga, nahmsayn? Then, I go to muhfuggin Gino's for a slice, nahmsayn, and Bebop and Rocksteady gon come up to me like, 'Son? Whats up with your boy, yo? We saw that nigga rollerblading down the street, with a boombox blasting Sublime and sh*t.'  Im like, c'mon gawd! Then, I'm trying to tell the nigga how good the Biggie movie was, nahmsayn, and he gon look at me and say 'No way brah, they totally shoulda made a Tupac movie instead.' Getdafukkouttaheah, nahmsayn! Look, son aint all that bad…but I cant f*cks with him no more, he just aint no real ninja.
Longtime brother, bff and confidant, Donatello, told us this:
I've noticed atypical behavior patterns in Mikey early on. He would always ask for vegan pizza, sprinkled with avacado shavings and served with pico de gallo dipping sauce. Constantly, in the hindermost portion of battles with Shredder,  Mikey would persist in efforts to persuade him to recycle his costume. Announcing joyously, "Its good to be green!" Furthermore, I think it was most awkward that, while the rest of the turtles and I were entangled in the acquisition of April O'neals panty-draws, Michelangelo was coercing her to openly admit her love for her lady-pal, Irma.  'Support the scissor!' he would always say, 'support the scissor.' Regardless of what any documentation says, he's still my deoxyribonucleic counter-part…but, I just don't think NY is the place for him. He would be much better off with those of his like.
Hajenson attempted to speak with Leonardo, but could not do so, as Rapheal continually interrupted Leo, shouting, "Shut yo' b*tch a** up!"
Lastly, we got word from Zachery Trent Bradford aka Michelango:
Dude. Mooooondo bummer. Like, my whole life brah…total flake. I so didnt ask fer this. It was just, like, this one day, this glowing green jizz was all over my face…and whammo brah! Im like, some sorta freaky giant turtle thing…and this rat gives me a pair of numchuks. So, I was like, Chyah! Whirrrrly whirrrrly! I ninja'd for a little while, but it was way lamo! Total sad face. I just wanted to play 'Chilli Peppers cover songs…hopefully get sponsored by Hurley or Body Glove…git my own band, y'know? My bro's totally dont get me. Never have. Anyway, brah…gotta toke.
"Mondo Bummer."  Mondo bummer indeed. We lost Mikey to a cloud of smoke before we could ask what lay in store for him. But we can only hope the best. For no son should be without his father, nor a turtle without his brothers.
13 Responses to "pnn exposed: michelangelo."
Leave a Reply