brown co vs. bar guy
Posted by hajipaji
Its not uncommon in the least for me to incur the company of the subnormal and weird.  Actually, since moving to Santa Cruz, its become an affixed portion of my daily routine.  Wake up, pee a little bit, brush my teeth, meet a man on the bus that swears he can teach origami to pigeons, go to work, eat and sleep.  Couldn't tell you why, that's just how I roll, son!  This is more so the case when I'm rolling with Dundee. For whatever reason, as a collective, people just don't find us threatening. Which, I'd be remised to not say I'm a little offended by. 
Anyway, with that said…meet "Mike."
Brown Co x Santa Cruz: Day II
Before making way to San Francisco, Dunny and me head over to a local Irish pub to cop a quick lunch. Typically, I dont enjoy sitting at the bar when I eat. Mainly because I feel like its disrespectful to both me (as a nigga that just wants to enjoy a sandwich), and those  occupying the area for alcohol consumption. I firmly believe the bar should be mutually exclusive. You eat at a table, and drink at a bar. Period.
Well,  this time, I laid down my sword.  I sat atop the cushiony barstool and enjoyed my meat and bread; and Dunny, his haggis and lucky charms…or whatever authentic Irish dish he ordered. Standard Brown Co. conversation ensued. Topics including (but not limited to); clothing & music, racial discrimination, requisite booty size, etc. Things carried on as any other afternoon lunch with a friend would.
Soon after we  finished our meal, a middle aged man who resembled a slightly more inebriated, yet whismsically less employed "The Guy on the Couch"stumbled in and occupied the stool next to Dunny. Desperately begging our attention, when he said…
"Soooo, who do you quarterback for, and what band are you in!?!?"
SON! I promise to everything I love, those where thee first words out of his  pork and bourbon scented mouth!
Me and Dunny turned to each other, then looked at him, and in Boyz II Men-like harmony exclaimed, "You racist son of a b….!"
He tried to diffuse the situation by explaining, "Noooo, guys, I didn't mean it like that! You(Dundee) clearly have an athletic build, reminds me of Mean Joe Green…and you (me), look like you should be in a funk band or a Reggae band! Kinda like Bob Marley!"
Hahaha! GET A FREAKIN GRIP!
Still, at no given point were we dismissive. I thoroughly welcome the opportunity to mingle with the offensive and bizarre denizens of the community. This guy, was top of the pile! Well, not really…but for the sake of the story…he was. Son introduced himself as a lover, a writer, a messiah, a politician, a singer (cont.). All of those things wrapped into one mid-day boozer of a man named "Mike." Mike was great.
We spent the subsequent hours (yes, hours!) with a barrage of inane trialogue. When, out of the blue, Mike realizes that he's developed a crush on Dundee. I mean, not that he planned any hand holding contests or lilly walks on the beach…but, a burly, "Hey dog! I like you!"  type deal.  And he cemented his adoration with this poem that he scribed for my ace: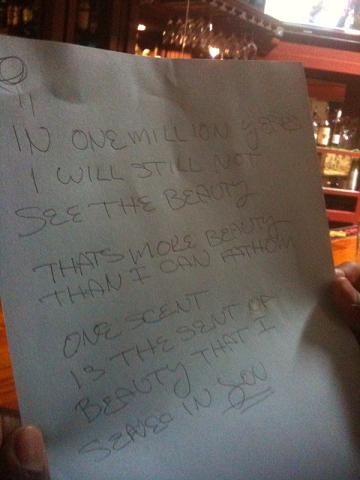 enjoy!
3 Responses to "brown co vs. bar guy"
Leave a Reply